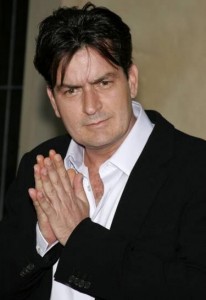 Yes, ladies and germs, it's my very own blog on my very own freshly-minted website. For the first time, it's a site that's ALL ABOUT ME! Oh yeah, like this is so hugely different than before. Nonetheless, I will be commenting about politics, entertainment and the human condition aplenty. Whether anybody asks me to or not. Duh.
And if you're wondering why the gratuitous pic of Charlie Sheen here, it's because I asked him to pray for my blog's success — and that's what Chuck sent back. You have simply got to love this man. Or hate him. One or the other.
As my daughter is fond of saying: Peace out.